Economics
There is one rule for the industrialist and that is: make the best quality goods possible at the lowest cost possible, paying the highest wages possible.

Henry Ford
Economics involves the study of how goods and services are produced, distributed and consumed within volatile global markets and the impact of these on society. Our knowledge of Economics and our commitment to making the world a better place can promote living standards and social mobility in our local, national and global communities. The Economics curriculum at St George's School provides students with unparalleled analytical tools to interpret the world around them and it shines a light on the great challenges that we face as a society and enables them to shape positive change around them.
Economics is only taught at Key Stage 5 (Year 12 and 13).
Our curriculum is a blend of theoretical macro and micro – economics and real life application. We carefully sequence and deliberately choose historic and current case studies to enable students to make use their knowledge to make connections whilst appreciating different contexts through varied perspectives.
Our students learn the detail that underpins economic systems, stakeholders, decision making processes, responsive markets, supply and demand, fiscal and monetary policy, inflation and competition. From a wider perspective, our students develop an understanding of economic climates in different cultures and countries and how they contribute to and influence the global economy.
As economies are forever changing, we aim to inspire adaptability within our Economics students' thinking so they become:
Confident analysers of economic theories
Critical consumers who appreciate a variety of perspectives from a range of stakeholders
Highly skilled evaluators of an ever changing economic climate
Flexible thinkers with the ability to articulate their reasoning
At A-level we follow the Edexcel Economics Specification details of which can be found below: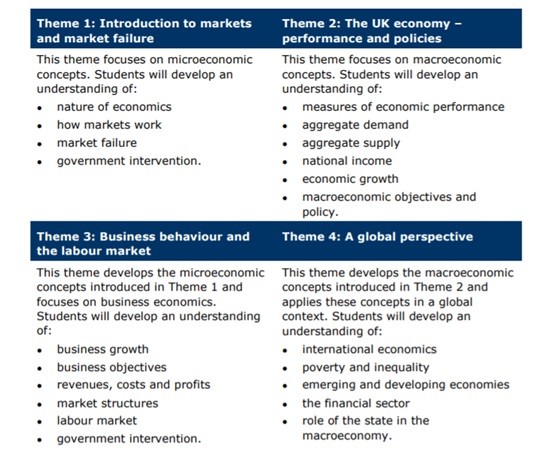 There are three papers as part of the Economics course:
Paper 1 (35%): Markets and business behaviour
Paper 2 (35%): The national and global economy
Paper 3 (30%): Microeconomics and macroeconomics
Staff
Mr M Jackman - Head of Department
Want to find out more?
If you wish to find out more about Economics at St George's please feel free to contact Mr Jackman at m.jackman@stgeorgesrc.org