St George's Everyday Spiritual Life
Gospel Reading Links
Series 3: Episode 3 - 2nd Sunday in Ordinary Time
The Mark 10 Mission - Episode 3
Prayer in lessons
A prayer is said at the beginning of form time, at the beginning of every lesson and assembly. Students are versed in a variety of formal prayers and they enjoy leading the prayers.
Prayers before briefings
Before each briefing twice per week, a reflection is given by a wide variety of staff members on a theme of their choice. This is something that we take with us during our working week. In this way the beliefs of all staff members are included in our school life.
Form Masses
Every Friday at 8:15am each form celebrates mass in our beautiful chapel. Students read from the Bible, answers questions from the priest and write their own reflections which they also read during mass.
Two minutes at two
Every day at 2pm a dedicated group of students gather in the chapel to spend two minutes reflecting on the life of Jesus with a staff member.
2 minutes at 2 in the chapel is a very peaceful time and a good place to reflect with your friends on the past week whether it was stressful or not. It is a very open space and you're always welcome. Nimrod Year 11
Liturgy Prefects
Our prefects wear their badge with pride. Each form class has elected a liturgical prefect to support the Catholic life of the school. They enjoy coming up with ideas for liturgies, taking part in collective worship and helping with charity events.
Being a liturgy prefect connects my local community with my school faith life' I enjoy being involved in the multiple charity events organised by the school, for example, 'wear your own clothes' day'. Binyam Year 10
Chapel
Our beautiful and peaceful chapel, located just off the atrium, is a quiet sanctuary that is open all day for students and staf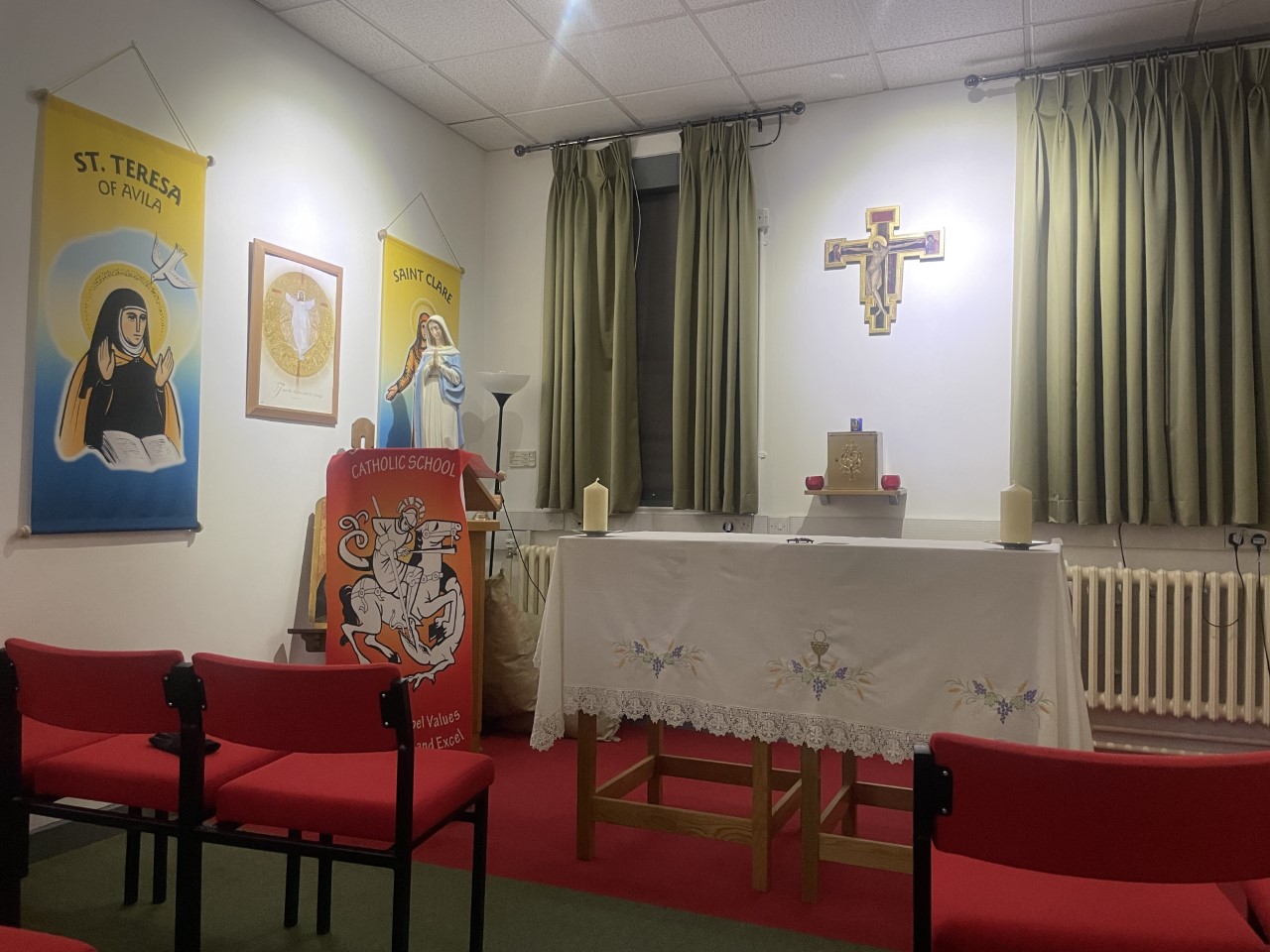 f to pop in and pray quietly. It is often decorated with liturgical themes.
Prayer/Display table
Each week the prayer display table, located in the atrium, is changed to reflect the ongoing spiritual life at St George's. Some recent examples include a display on St Francis of Assisi, Blessed Carlo Acustis and Remembrance Day.